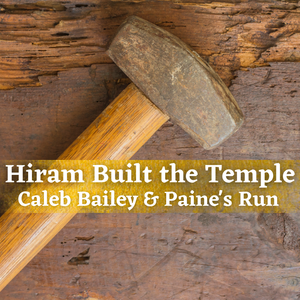 Grottoes, Va. (November 16, 2022) – Caleb Bailey has released a compelling new gospel single, "Hiram Built the Temple," to bluegrass, folk, gospel, and Christian radio outlets today. This release kicks off ticket sales for the Caleb Bailey & Paine's Run dinner and concert event, Merry Mountain Christmas, taking place December 9 and 10, 2022, in Grottoes, Virginia. 
The new single, penned by Bailey, appears on his new album, Camille. "Hiram Built the Temple" is a powerful four-part gospel song that tells the story of Hiram Abiff; the original Mason tasked with building King Solomon's Temple. I wrote this song on Christmas Day in 2020 while working on shift as a professional fireman while others were home unwrapping gifts; between calls, I was able to unwrap this gospel story to tell the world about the man who built this spectacle of a building," said Bailey. 
"Hiram Built the Temple" includes the talents of Caleb Bailey on lead vocal and guitar, Joseph Showalter on tenor vocal and fiddle, Chandler Beavers on baritone vocal and mandolin, Wyatt Wood on guitar, Brandon Kyle on bass, and Rob Slusser on bass vocal and banjo. The entire album is available for streaming and purchasing everywhere and to radio programmers at AirPlay Direct. 
The Merry Mountain Christmas Dinner & Concert will take place on December 9 and 10, 2022, from 7 p.m. – 10 p.m. at the Grottoes Fire Department, 109 3rd St., Grottoes, Virginia. Tickets are $50 for each night, per person, and include a meal, dessert, and three drinks, with performances by Caleb Bailey & Paine's Run, Shenandoah Drive, and more special guests. There will be numerous "Hallmark" themed photo prop opportunities for the entire family providing a beautiful backdrop for Christmas photos.    
For more information on Caleb Bailey & Paine's Run and to order tickets for Merry Mountain Christmas, please visit calebbaileymusic.com and follow the band on YouTube, Facebook, Spotify, Instagram, and TikTok @cbbmusic4u.  
##