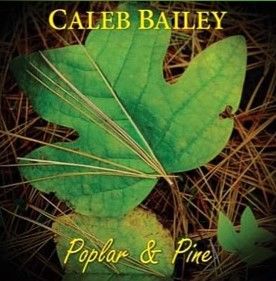 (October 25, 2021) – Virginia singer-songwriter Caleb Bailey's impressive Poplar & Pine album is set for digital release on October 30, 2021; however, the album has already garnered tremendous success for this new artist. Bailey penned all tracks on the 10-track album, with numerous singles hitting the bluegrass charts and gaining rave reviews. The album also climbed to #6 on AirPlay Direct's Top 50 Bluegrass Album Chart last week.
Bluegrass Unlimited Magazine published a phenomenal review of Poplar & Pine, stating the album "honors traditions" and the "song arrangements and dynamics display a high level of musicianship across the entire project." They also state Bailey is "an authentic vocalist who gets his important messages across with mature and heartfelt song writing and singing. He's got his own style and messages to share, seemingly beyond his years," Bluegrass Unlimited Magazine. 
The album drops at the perfect time of the year with fall-themed tracks like "Hard Cider," and "The Ghost of Eli Jones" that tells of the captivating story of a drunkard whose spirit wanders the mountains. His most downloaded track by radio programmers so far is "Grim Reaper." The song not only charted on the Bluegrass Today Top 20 song chart this year but also hit the #1 spot on the publication's Grassicana chart. 
The "House of the Lord" single and accompanying video, tells the story during the coronavirus pandemic with empty church pews saying, "The preacher now preaches his sermons online, and the house of the Lord has a for sale sign." Other tracks include the title cut "Poplar & Pine," along with "How Do You Say Goodbye," "Eagles Were Made To Fly," "Red County Clay," and the gospel song "When the Power Fell on You." 
"United Flight 93" was released in advance of the solemn remembrance of the 20th anniversary of 9/11 featuring guest Wayne Taylor from the Grammy award-winning group, Blue Highway. It was the #1 song five weeks in a row on WOBL's Bluegrass Borderline Top 10 Countdown. The song received well deserved coverage including in-depth interviews on numerous radio shows, Americana Rhythm's podcast, Net Radio Dog's podcast, Bluegrass Today, and from many more outlets. 
Musicians on Poplar & Pine include Caleb Bailey on lead vocals and guitar; producer Gaven Largent on Resophonic guitar and banjo; engineer Caleb Cox on guitar and harmony vocals; Jason Barie on fiddle; Jonathan Dillon and Nick Goad on mandolin and tenor vocals; Austin Brown on bass; and guest Wayne Taylor on vocals on "United Flight 93," and John Cox on drums on "How Did You Say Goodbye" and "Eagles Were Made to Fly." 
Caleb Bailey & Paine's Run just received a sponsorship from Classic Tuxedo in Harrisonburg, VA for new suits for some of their live performance dates. Upcoming shows include October 24 at the Death Ridge Brewery in Jeffersonton, VA, October 30 at the Boo Grass Festival in Fairfield, VA, November 19 at the Wayne Theatre in Waynesboro, VA, and a soon to be announced date at the Song of the Mountains TV Series in Virginia. 
Caleb Bailey's Poplar & Pine album is available now to radio programmers at AirPlay Direct and in CD format to consumers at Bailey's website and County Sales. It will be available for streaming and digital purchasing on October 30, 2021. 
Learn more about Caleb Bailey visiting his new website at calebbaileymusic.com and by following him on YouTube, Facebook, Spotify, Instagram, and TikTok @cbbmusic4u