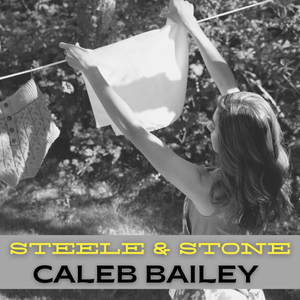 Singer-Songwriter, guitarist, and band leader Caleb Bailey is proud to announce today's new bluegrass single, "Steele and Stone." Bailey explained the word "Steele" is a family name and is a play on words on this hot new single. 
"Steele and Stone' has the feel of old mountain music, with the fiddle/banjo intro. We wanted this song to capture the early 1900s time period. The crowds at our live performances always enjoy this song, so we hope the new listeners will as well," said Bailey. 
"Steele and Stone" comes on the heels of his other strong single, "Camille," which also includes a music video release. The video includes images donated by The Nelson County Historical Society in Lovingston, Virginia, of the devastating aftermath in Nelson County of Hurricane Camille in 1969. The "Camille" music video debuted on The Bluegrass Standard Magazine's Top 15 Video Chart for July 2022. 
Both new singles appear on Caleb Bailey's upcoming album, Camille, set for release on August 19, 2022. 
Caleb Bailey & Paine's Run will perform on August 15, 2022, at the Rockingham County Fair in Harrisonburg, Virginia, and at the band's Album Release Concert on August 19 at The Nelson Center in Lovingston, Virginia. 
For a complete tour schedule and more information on Caleb Bailey & Paine's Run, please visit calebbaileymusic.com and follow the band on YouTube, Facebook, Spotify, Instagram, and TikTok @cbbmusic4u. Radio programmers can download "Steele and Stone" and "Camille" at AirPlay Direct, Get It Played, or by request to penni@hoperiverentertainment.com. 
##