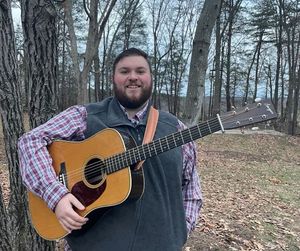 PRESS RELEASE Grottoes, Va. (March 17, 2022) – Shenandoah Valley, Virginia-based band Caleb Bailey & Paine's Run are proud to announce the band's newest member. Wyatt Wood from Rockbridge County, Virginia, joins the group on guitar and vocals. He will make his debut on April 2nd at Caleb Bailey & Paine's Run performance at The Sterling Bluegrass Jamboree in Mt. Sterling, Ohio.   
The band is now in the studio at Homestead Recording, with another Caleb - Caleb Cox recording ten original songs by Caleb Bailey. Bluegrass Unlimited calls Caleb Bailey "an authentic vocalist who gets his important messages across with mature and heartfelt songwriting and singing. He's got his own style and messages to share, seemingly beyond his years."   
Caleb Bailey penned all tracks on his latest album, Poplar & Pine. Numerous singles appeared on Bluegrass Today's Grassicana and Gospels charts like the popular "The Ghost of Eli Jones, "Hard Cider," "Grim Reaper," and "House of the Lord." The incredibly moving "United Flight 93," featuring guest Wayne Taylor from the Grammy award-winning group, blue Highway, was the #1 song five weeks in a row on WOBL's Bluegrass Borderline Top 10 Countdown and received airplay on country radio stations. Last fall, Poplar & Pine reached #6 on AirPlay Direct's Top 50 Bluegrass Album Chart. 
Learn more about Caleb Bailey & Paine's Run by visiting calebbaileymusic.com and following the band on YouTube, Facebook, Spotify, Instagram, and TikTok @cbbmusic4u.  
##